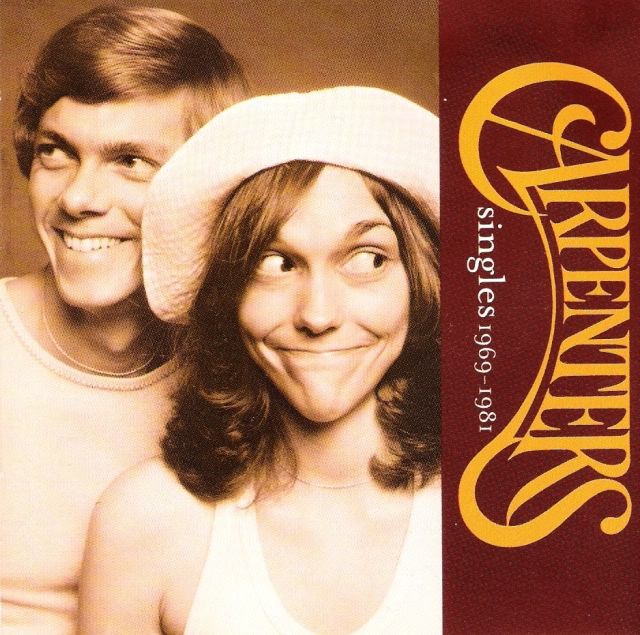 Carpenters
or The Carpenters were a vocal and instrumental duo, consisting of siblings Karen and Richard Carpenter. The Carpenters were the #1 selling American music act of the 1970s.[1] Though often referred to by the public as "The Carpenters", the duo's official name on authorized recordings and press materials is simply "Carpenters", without the definite article.[2] During a period in the 1970s when louder and wilder rock was in great demand, Richard and Karen produced a distinctively soft musical style that made them among the best-selling music artists of all time.[1][3]
During their 14-year career, the Carpenters recorded 11 albums, five of which contained top 10 singles (Close to You, Carpenters, A Song for You, Now & Then and Horizon), thirty-one singles, five television specials, and one short-lived television series. They toured in the United States, the United Kingdom, Japan, Australia, the Netherlands and Belgium. Their recording career ended with Karen's death in 1983 from cardiac arrest due to complications of anorexia nervosa. Extensive news coverage of the circumstances surrounding her death increased public awareness of the consequences of eating disorders.[4][5]
They were the biggest-selling group of the 70s. No fewer than ten of their singles went on to become million-sellers, and by 2005 combined worldwide sales of albums and singles well exceeded 100 million units. Yet the Carpenters were much more than creators of beautifully crafted and hugely successful hit records. Within the space of just a few years their unique and inimitable sound had brought a new dimension to the world of popular music.
Richard Carpenter had shown an interest in music from a very early age. Born in New Haven, Connecticut, on October 15, 1946, he can remember listening to his father's 78s when he was just three and four years old. His father, who worked for a container corporation, had everything from the classics to big band music. Richard would develop a similarly eclectic taste in music.He heard more music on the radio, and soon he was asking his parents to buy him some of the records he heard. Guy Mitchell, Perry Como, Patti Page and Nat King Cole were particular favorites, as were guitarist Les Paul and his wife Mary Ford, and he also enjoyed both the Dixieland jazz of Red Nichols and the comedy of Spike Jones and his City Slickers.
At the age of eight, he started to play some music himself. His first instrument was the accordion, but he soon abandoned that in favor of the piano. By the time he was 15, he was studying piano at Yale and was part of a piano/bass/drums trio, playing at venues in and around New Haven.
His sister Karen, on the other hand, initially showed no musical inclinations other than listening to records. Born on March 2, 1950, she was barely into her teens when in 1963 the whole family moved to the Los Angeles suburb of Downey. It would be the following year before Karen felt any urge to express herself musically.
Richard attended Downey High School as a senior and during this time studied piano at the University of Southern California. Informed that he could be transferred out of physical education if he were a member of the high school marching band, he was faced with the problem that the piano is not a particularly portable instrument.
Upon hearing him play however, the band's director, Bruce Gifford, asked him to play piano with the concert band in a class performance of Gershwin's Rhapsody In Blue. Gifford went on to invite Richard to join his own combo playing music outside the high school itself.
By late 1964 Karen's musical talent was awakening. Now a first-year student at Downey High School and playing glockenspiel in the marching band, she was inspired by the drumming ability of band mate Frankie Chavez. She went home and started adding her own rhythm accompaniments to some of her records, using a pair of chopsticks and a set of bar stools as her drum kit. When her parents responded by buying her a proper drum set, she was able to play it instantly, and before long the idea of some kind of Carpenters group had been born.
Karen was just 15 when the Carpenter Trio was formed. The brother and sister teamed up with a classmate Richard had met in June of 1965, tuba and bass player Wes Jacobs, to play jazz.At Richard's urging, Karen would sing an occasional selection but primarily the trio was an instrumental outfit, as Karen's distinctive singing voice was just developing and she was not very happy with the sound. By early 1966, however, Karen's voice had matured quite a bit and, while still a bit rough around the edges, had developed enough to attract the interest of more than a few.
Through a classmate, an audition for Karen and Richard had been scheduled with West Coast studio electric bassist nonpareil, Joe Osborn. Osborn and a partner had recently launched a record label, Magic Lamp, and were on a search for new talent. Slated for approximately 1 a.m., as Joe routinely worked in the studios until midnight, the audition took place at Osborn's garage studio at his home in the San Fernando Valley. Richard played, Karen sang, and a decision was then made to record and listen. The result was incredible; Karen's voice was born to be recorded and, in May of 1966, Harold and Agnes Carpenter signed a contract for Karen with the fledgling label. From several songs cut, two written by Richard but named as Karen Carpenter solo records, were issued as a single, Looking For Love and I'll Be Yours. It was a start, but it went nowhere. The small label had no machinery for distribution and promotion, and it folded within a year.
What happened next was every young act's dream. The Richard Carpenter Trio had reached the finals of the prestigious amateur talent contest 'The Battle of the Bands' at the Hollywood Bowl on June 24, 1966 and triumphed. Iced tea was the favorite drink of Karen and Richard, and he composed an ambitious instrumental with that title that was a showcase for Wes Jacob's tuba and Karen's drumming. The group's originality impressed the judges.
Their other song was a dazzling instrumental version of the bossa nova classic The Girl From Ipanema, popularized by Astrud Gilberto with Stan Getz. A multi-time signature rendition arranged by Richard drew applause from the judges – and the trio took three awards including best combo, outstanding instrumentalist (Richard), and the sweepstakes trophy for the highest score of any act in the whole contest. Their victories were the talk of the Hollywood Bowl.
Reviewing the show in the Los Angeles Times, Leonard Feather wrote: "The musical surprise of the evening was the Trio of Richard Carpenter, a remarkably original soloist who won awards as the best instrumentalist and leader of the best combo. Flanking his piano were Karen Carpenter, his talented sixteen year old sister, at the drums, and bassist Wes Jacobs who doubled amusingly and confidently on tuba."
As Richard walked with Karen to the parking lot, a man walked over to congratulate them and inquire whether they might like to make test records. "I was nineteen, smug, full of myself, and we'd just won," Richard says. "I told him we already had a contract. He said to give him a call if things changed, and gave me his card." This card gave his name as Neely Plumb, the prominent West Coast manager of pop with the giant RCA Records. Pulling his foot from his mouth, Richard gathered himself quickly and said that actually his sister was signed to a small company as a singer, but the trio was not. (Richard was signed only as a songwriter to Light-Up Music, the publishing arm of Magic Lamp Records.) Plumb said he was interested in their instrumental sound, and a test at RCA followed. It transpired that Plumb wanted to develop a 'rock tuba' sound by emphasizing the uniqueness of Wes Jacobs. In September, the trio signed with RCA and quickly cut eleven tracks, including Strangers in the Night, the Beatles' Every Little Thing, and an original, Flat Baroque which eventually became a popular Carpenters track. But the RCA committee voted against them all. With psychedelia dawning, they saw no commercial potential in a jazzy trio. Losing confidence in getting themselves established with RCA, Richard, Karen and Wes accepted the company's offer of a few hundred dollars to end the contract.
Before long the trio had split up. Jacobs decided that his way forward was in concert music, and left to pursue that aim and study at Julliard. The two Carpenters went back to their respective studies.
Before long the trio had split up. Jacobs decided that his way forward was in concert music, and left to pursue that aim and study at Julliard. The two Carpenters went back to their respective studies.
One of Richard's fellow students at the time was John Bettis. The two would form a lasting friendship and together they would later write several of the Carpenters' biggest hits.
Their first experience of working together professionally was less successful, however. They both took a job at Coke Corner on Disneyland's Main Street U.S.A. There, routinely deviating from the selections of turn-of-the-century tunes they were asked to perform, the pair were sacked after four months.
During this period Richard formed a second musical outfit with sister Karen, who now sang with the marvelous voice millions would soon love. John Bettis was one of its members – as were three more fellow students, Leslie Johnston, Gary Sims and Danny Woodhams. With Carpenter and Bettis writing the bulk of the group's repertoire and Richard crafting the arrangements, they called themselves Spectrum. This time Richard opted for a vocal approach.
Much of his inspiration came from the harmonies of Mary Ford, the Beach Boys and the Association, but the arrangements were very much Richard's own. It was the new rock bands, however, that were receiving most of the interest at the time, and Spectrum suffered in consequence. Although they played support dates at such major venues as The Blue Law and The Whisky A-Go-Go, the band was short-lived, and Richard and Karen were soon on their own once more.
It was during this time that Karen saw a doctor about her weight. From her early years she had been chubby and by seventeen and weighing 145 pounds (too much for her height of five feet, four inches), she felt she had endured it long enough. The Stillman diet was prescribed in which Karen had to drink 8 glasses of water daily, avoid all fatty foods, and take some vitamins.
She hated the diet but adopted it rigidly. Meeting Richard and John after their performances at Disneyland, Karen would go on with them to rehearsals. Following these, the group went to Coco's coffee shop for milk shakes, onion rings, and burgers – food she normally ate voraciously. But she did not sway from her task and lost twenty-five pounds during these six months in 1967 – and stayed at her new weight of around 120 pounds from then until 1973.
The taciturn Joe Osborn was the pivot of the group's next move. With Richard now believing that his arranging skills, his sister's singing style, and their overdubbed vocals were the three keys to their future, Joe suggested they return to his studio. There, in mid 1968, recording all the vocals themselves, they cut three tracks, a new composition by Richard, Don't Be Afraid, and Carpenter-Bettis compositions Your Wonderful Parade and the a cappella Invocation. The results were 'terrific,' Richard decided after three sessions. They had hit a winning groove.
"Karen's sound was there. It was just a matter of the right song, and we were getting close." He decided boldly that he and Karen would form a new sound of their own, and to hell with fancy names. They would be Carpenters, without the as a prefix, since Richard felt it sounded hipper and in the same style as Buffalo Springfield and Jefferson Airplane.
Although Karen still considered herself primarily a drummer who sang, Richard sensed there was a lot more potential in her vocals. There were to be a number of bumps on their new route to success, but as they now pulled away from the concept of a band sound, luck was to smile on them.
After two years of battling for a breakthrough, the summer of 1968 came with a flurry of activity that brought them an escalator to success.
It was the height of the Vietnam War, and Richard, heavily draftable, had been granted a student deferment, which meant he could stay at the university at Long Beach. There he heard of a new national TV program, 'Your All American College Show,' for which talent scouts auditioned acts on campuses. Those selected went to Hollywood to tape the show before a celebrity judging panel. Broadcast nationally, the much-vaunted show was sponsored by Colgate-Palmolive and produced by the prominent radio and commercial announcer Wendell Niles. If they succeeded in getting on that show, the publicity value would be enormous.
With Karen at the drums, Richard at the piano, and a talented bassist, Bill Sissyoev, recruited specially, they auditioned at CSULB in spring 1968 with a short medley of Dancing in the Street and The Shadow of Your Smile. Featuring technically difficult piano solos interjected by Richard to show off his ability, along with Karen's singing talent and drum solo, they easily outstripped the other acts. They were accepted by "Your All American College Show," appearing as the trio three times that year. In all, the trio won $3,500; Richard also won $3,500 for his subsequent solo performances, and the public exposure was a valuable fillip.
Another triumph followed quickly. What was at that time still the subculture of rock and pop music was beginning to be projected in television commercials. Richard was phoned by John Bahler, who, with his brother Tom, had a group called Love Generation. The Bahler brothers, hired by the advertising agency J. Walter Thompson, had seen Karen and Richard on "Your All American College Show". That firm's client, Ford Motor Company, wanted to augment the Bahler brothers' group (by now called The Going Thing after the current Ford campaign) to help generate interest in Ford and also to promote an upcoming new car, the Maverick.
Auditioning about two hundred acts in New York and another two hundred at Sunset Sound in Hollywood, the Bahlers were impressed with the energy and musicality of Richard and Karen – and in early 1969 they were signed to a contract worth initially a gigantic fifty thousand dollars each annually plus a special Mustang car each.
Richard and Karen were elated at the prospect of this windfall. At last, it seemed, their worth was being recognized.
Still, a record deal eluded them, and for all their talent and activity, the only real recognition as popular artists would come from seeing and hearing their music tearing up the best-selling record charts. That was the only real yardstick of success.
At first, they again found that not one of the record companies were interested in the tapes they made, but eventually, through a circuitous route, the recordings ended up with the co-founder of A&M Records, Herb Alpert. By 1969, Alpert was the world-famous trumpeter and leader of the hugely successful Tijuana Brass. He was also the "A" in the lively record company A&M. As he played one of the hundreds of tapes that landed on his desk every week from hopeful artists, one that featured Karen Carpenter's voice struck an emotional chord: it reminded him of his high school teens, of Patti Page singing down to him from speakers in the trees in a garden when he was visiting Lake Arrowhead, California. "I remember staring up at the speakers thinking Patti Page's voice was in my lap. It had so much presence.
"The first note I heard from this tape was Karen's voice. And I had that same feeling. My mind went back to the speaker system on that tree. It felt like her voice was on the couch, like she was sitting next to me. It was full and round, and it was … amazing….. This voice was buzzing into my body, and it was the way they presented it."
With his partner, Jerry Moss, Alpert had begun A&M in 1962 with two parallels to the Carpenters' route to his door. He had begun the Tijuana Brass in his makeshift garage studio, just as they had experienced with Joe Osborn; and, like Karen and Richard, Alpert had once been signed unsuccessfully to RCA Records – in his case, as a singer. His suggestion that he play trumpet for the label was rejected. These coincidences were not known to either party as the tape wended its circuitous way to Alpert's desk in early 1969.
As well as heralding new rock sounds, Alpert and Moss valued a backbone of songwriters of pure pop single hits, and two notable Americans were also inside the A&M fold: Burt Bacharach, who with his partner, Hal David, composed a string of golden hits for singer Dionne Warwick; and Paul Williams, an introspective writer who sang his own lovelorn material co-written with his partner, Roger Nichols, also an A&M artist. Alpert and Moss had thus created a highly individualistic label. It was not challenging such giants as Capitol and Warner Brothers, but it had panache. And it had an asset at the helm which all the musicians respected: Alpert, a natural trumpeter and performer who empathized with the artistic temperament.
The Carpenters tape that he heard had an impressive multi-harmony sound achieved by Richard and Karen in Osborn's garage studio. The three songs featured, Your Wonderful Parade, Don't Be Afraid, and Invocation, represented not trendy rock but straight forward popular music. Alpert, fortunately, always had an ear for talent beyond what he called "the beat of the week." In love with the voice, the harmonies, and the arrangements, he decided immediately to offer them a deal.
On April 22, 1969, Richard and Karen went to the office of Jerry Moss to sign the contract. Since Karen was at nineteen legally underage, once again her parents had to countersign for her.
Over the moon with excitement at a record deal, they now faced one worrying hurdle – that signed contract with J. Walter Thompson to tour the United States to hammer across "The Going Thing" commercials. Giving up fifty thousand dollars each plus a car was not palatable, but a disc career promised longevity and there was no serious choice. There would be no time to tour and launch a record career. With some persuasion from Tom Bahler, the agency let them out of the pact, to Richard's surprise, relief and appreciation
In November of 1969 their first album was released. Called 'Offering', it included Richard's ballad version of the Beatles' 1965 hit Ticket To Ride. Much more than just slowing the song down, Richard tailored John Lennon's strong melody to Karen's alto and to the changed mood of the song, which was quite different due to the ballad approach. Certain chords and time signatures were changed as well, and the chart features liberal use of Karen's and Richard's overdubbed harmonies.
According to one critic, the finished product "virtually redefined the song"; Ticket To Ride is certainly one of Karen's and Richard's strongest and most innovative recordings.
All this being said, the record did not become a full-fledged hit, but still had a long chart life as it would enter and leave the chart, only to enter again, sometimes "bulleted," and ultimately reaching No.54 in April, 1970. Considering the fact that most singles never reach the charts, Karen and Richard believed that this was not a bad showing. Besides, Ticket had been heard by the co-writer of the Carpenters' next single, which was "in the can" and being held up for release as all watched the ever changing fortunes of Ticket To Ride.
Also on A&M's books at that time was the hugely talented Burt Bacharach, who showed an early interest in the Carpenters' work after hearing Ticket To Ride on the radio, and invited them to join him for a number of dates during 1970. In June of that year it was a Burt Bacharach song which would finally bring them worldwide acclaim.
They Long To Be Close To You had been written by Bacharach and his partner Hal David some seven years earlier, and was included in Dionne Warwick's third album. In addition to Karen's alluring lead vocal, the Carpenters added intricate harmonies to a beautiful arrangement by Richard who also shortened the title and, in six weeks, the song occupied the No.1 spot on the American charts. It remained one of the best sellers of the year, and sold over three million copies worldwide. The song also gave the duo their first British success, reaching No.6 in the autumn of 1970, and became a hit in several other countries.
In March of the following year, the recording also won them their first Grammy Award for Best Contemporary Vocal Performance by a Duo, Group or Chorus. There was a second Grammy for Best New Artist of 1970. In all, Close To You and the "Close To You" album were nominated in six categories, including Record and Album of the Year.
By then they had another million-seller to their name. We've Only Just Begun, taken from their second album, 'Close To You', only just missed the top spot in the US, peaking at No.2. The impact of We've Only Just Begun on millions of people cannot be overstated. Written by the then unknown team of Roger Nichols and Paul Williams expressly for a television ad campaign for the Crocker Bank, a California concern, the song caught Richard's attention, who felt that with the right arrangement, the song would be a hit. The fact that We've Only Just Begun is a wedding song did not make any difference to him one way or another, but certainly did to countless couples planning to get married following the record's release; We've Only Just Begun became the wedding song of a generation. In addition, Karen and Richard, Nichols and Williams were bombarded with requests from yearbook committees, asking permission to use We've Only Just Begun as the motto of the graduating classes.
Additionally, Richard's interpretation of the song would have quite an impact on the way many ballads to come were arranged, from the voicing of the piano in the intro and first verse, to the entrance of vocals, strings and the use of brass in the bridge.
Joining (They Long To Be) Close To You in the Grammy Hall of Fame, We've Only Just Begun for years has been considered Karen's and Richard's 'signature' song.
The album, too, was enjoying enormous success, spending well over a year on the US album chart. In addition to the two hit singles, it included many more memorable tracks; among them Help!, Baby It's You, Mr. Guder and Reason To Believe.
In 1971 there were three more hugely successful singles, all of which became million sellers. For All We Know had been featured in the film 'Lovers And Other Strangers'. With music by Fred Karlin and lyrics by a certain Arthur James and Robb Wilson – actually pseudonyms for Arthur Griffin and Robb Royer of the group Bread – it went on to win an Oscar for the Best Film Song of 1970.
The Carpenters' version went to No.3 on the American charts and was soon followed by the similarly successful Rainy Days And Mondays – written, as was We've Only Just Begun, by Roger Nichols and Paul Williams. During the last week of May, 1971, while Rainy Days And Mondays was rapidly climbing the charts, Karen and Richard were rapidly videotaping their songs and sketches for an eight-week summer replacement television series entitled "Make Your Own Kind Of Music." Scheduled to air on NBC in lieu of "The Don Knotts Show," the summer series was supposed to be a kind of cross between "Laugh-In" and "Sesame Street." Whatever it was, management should have known better than to persuade Karen and Richard to take any part; Carpenters was too big a name to be associated with a summer replacement series. To make matters worse, although it was considered their show, Karen and Richard were co-billed with somewhat lesser names. Add to this the fact that the show simply was not very good, the result was that "Make Your Own Kind Of Music" left an understandably unfavorable impression with television executives as far as the Carpenters were concerned, while contributing nothing to record sales.
A few months later it was the turn of Superstar, which reached the No.2 spot on the American charts but, backed with For All We Know, it also brought the pair their third British success, reaching No.18. Superstar is considered by many to be the ultimate Carpenters' track, with its haunting melody, off-beat lyric, heartfelt reading by Karen and Grammy nominated arrangement by Richard.
There was another album, too. Called simply 'Carpenters', it resulted in further chart success in both Britain and America. It also won them yet another Grammy Award, again for Best Performance by a Duo, Group or Chorus.
Despite all their chart successes, however, the Carpenters were no run-of-the-mill hit-parade artists. They actually heralded the start of a whole new era in popular music, and their legacy is still very much in evidence today.
Previously, adult record buyers had been served by sophisticated night-club singers like Frank Sinatra and Tony Bennett and by arranger/conductors like Ray Conniff and Percy Faith. But among the new generation of young adults were some who had different tastes. Although they had been brought up during the rock and pop explosion of the 60s, they too wanted more 'adult' music. But they weren't prepared to settle for what their parents had been offered. These were from among the 'baby boomers', whose sheer numbers gave them considerable commercial clout. They wanted music of their own – and what they wanted was a more contemporary kind of 'pop'. The Carpenters were among the first to provide it – both in their recordings and in live performances.
By 1971, the Carpenters were performing all over the world. In London, they packed the Royal Albert Hall during their first European tour. In America, there were sell-out appearances at such prestigious venues as the Hollywood Bowl, and in Japan they performed the first of what would be many sell-out concerts.
The first half of 1972 saw two more American chart successes with songs arranged by Richard but written by others. Hurting Each Other had originally been recorded by Ruby and the Romantics and It's Going To Take Some Time had been written by Carole King and Toni Stern. Both songs took the Carpenters into the American Top 20, reaching No.2 and No.12 respectively.
It was to be some months before their next British hit single, however, with that honor reserved for Goodbye To Love, written by Richard and Bettis. With the help of a splendid Richard Carpenter arrangement, Karen's faultless reading and Tony Peluso's towering guitar solo, it first climbed rapidly up the American charts, reaching No.7 at its peak. Goodbye To Love was then released on a double-sided single in Britain, together with I Won't Last A Day Without You, another Paul Williams and Roger Nichols song. The single reached No.9 on the British chart.
The preceding four singles were all culled from the duo's fourth album, "A Song For You", considered by many, including Karen and Richard, to be their finest. Included as well were Top Of The World and Bless The Beasts And Children, from the Stanley Kramer film of almost the same name, "Bless The Beasts And The Children". This track, one of Karen's and Richard's best, was released in the U.S. on the flip of Superstar, and got quite a bit of play in its own right. All told, "A Song For You" contained an impressive six hits, as well as standout tracks such as Flat Baroque, Piano Picker, and the title song.
Yet the group still remained more popular in America than with British audiences. In early 1973 there was to be another American hit, the million-selling Sing, before renewed British success with another Carpenter-Bettis composition.
Yesterday Once More finally gave the Carpenters' British career the boost it needed. In mid-1973, the song raced up the British charts, peaking at No.2 – the same position that it reached in America, and higher than that reached by all of the Carpenters' previous British singles. It would also provide them with yet another million-seller and prove to be a phenomenal success in Japan.
The song looked at the craze for musical nostalgia that was prevalent in America at the time. It had been taken from the Carpenters' equally successful album, 'Now And Then', which incorporated a highly unusual idea. The whole of one side was made up of eight classic 60s pop songs presented as a 'radio show' skillfully arranged and produced by Richard, with Tony Peluso guesting as a disc jockey.
Another Carpenter-Bettis composition, Top Of The World, shot right to the top of the American charts – and to No.5 in Britain – to give them their third million-seller of 1973.
There was a hugely successful album as well – a splendid compilation of 'The Singles 1969-1973'. Nine of the 12 tracks had already sold over a million copies when released as singles. Yet the album still topped both the American and British album charts, eventually selling over two million in the UK and clocking up over 12 million sales in America.
On May 1, 1973, there was an accolade of a different kind. President Richard Nixon invited the brother and sister to perform at the White House, at a dinner in honor of West German Chancellor Willy Brandt.
There was a change of direction for one 1974 release, with a version of Hank Williams' country favorite Jambalaya featured in 'Now And Then'. Backed with Mr. Guder, which appeared on their 1970 'Close To You' album, it gave the Carpenters a double-sided British hit, reaching No.12 in March 1974. Jambalaya also became a gold record in Japan and in the Netherlands proved itself to be Karen and Richard's biggest hit. As John Fogerty and the Blue Ridge Rangers were enjoying some success with the song in 1973, the same time as "Now & Then's" release, and Yesterday Once More was just following Sing, Richard did not even think about releasing Jambalaya in America. Based on their record's success in other countries, "Maybe," Richard now states, "I should have!"
The next year began well, too, with another change of pace and another enormously successful single. Please Mr. Postman had been an American chart topper for R&B group the Marvelettes in 1961, and well known in Britain, too, thanks to the Beatles. The Carpenters again took it to the top spot in America, easily selling another million on the way. The recording reached No.2 in the UK charts, and ultimately became their largest selling single worldwide, a fact with which Richard has mixed feelings.
Only Yesterday (by Carpenter and Bettis again) was another success on both sides of the Atlantic and there was yet another million-seller album, 'Horizon'. In addition to the singles successes, Please Mr. Postman and Only Yesterday, the album included Love Me For What I Am, I Can Dream, Can't I and Desperado. This time they proved even more popular in Britain than in the US with 'Horizon' making its debut at the top of the album chart, and staying among the best sellers for nearly six months in all.
The constant round of recording and touring was beginning to take its toll on Karen Carpenter. Slimming and health foods were becoming fashionable in the early 1970s, particularly in image-conscious California. So was the cachet of having a trainer visit private houses to supervise exercises. Despite the myriad pressures on her body through travel, erratic eating, her appetite for junk food, and a punishing work schedule, Karen had maintained her weight of 120 pounds from the summer of 1967 all the way through to early 1973.
When Karen saw pictures of herself in concert in Lake Tahoe in August 1973 she was appalled. An unflattering dress revealed her paunch, and she hired a "workout guru" to visit her home. She bought a "hip cycle" and lay on her bed with it every morning and took it on tour. Her "guru" advised her to go on a high carbohydrate intake, and she eliminated most of the known calorie-packed foods from her diet, particularly ice cream which she loved.
Then something happened to truly frighten her. As she stepped up her exercises, instead of losing weight she became somewhat muscular. "She definitely began to bulk up. She wasn't too heavy," Richard says, "but the weight was coming on her." This threw her into a muddle and could have been the chrysalis of her problem.
On November 13, 1973, the Carpenters guested on a Bob Hope TV special. When Karen saw the video of the show soon afterward, she remarked to Richard about her appearance. Self-consciously unhappy about how she appeared, she assured him she intended to "do something about it." He agreed that she looked heavier than she had previously. The conversation passed as insignificant.
She stopped most of the exercises, which she believed to be too muscle-building, and began what she considered to be a normal diet, nothing remarkable or even noticeable by others. It was just sensible enough, she assured Richard, to shed a few pounds which was necessary. With the benefit of hindsight, he now thinks that the "bulking up" caused by the exercises might have been the turning point that intensified her decision to maintain a strict check on her weight.
Nobody can be certain of exactly when her anorexic habits took root, Richard insists – chiefly because Karen had always been conscious about her weight. She remarked often on how much she hated her 'hourglass' figure.
The year 1974 set no alarm bells ringing, as Karen was seen as one of the many health-aware young women – and since she had a historic reason for weight watching, why should anyone have been surprised? Photographed for the cover of Rolling Stone magazine on May 22, 1974, wearing a tank top, a cap, and the upbeat expression that was part of her trademark appeal, she looked radiantly happy and healthy.
Within less than a year, however, Karen plunged into what Richard believes was the period marking the start of the decline that was to prove deadly. By September 1975, due to the onset of anorexia nervosa, her weight had dropped to just 91 pounds, depleting Karen of her normal high energy and forcing her to take two months off to recover.
Later that month, Richard flew to both Tokyo and London for press conferences at which he explained that Karen was exhausted and that sold-out tours in both Japan and the U.K. were being postponed to the following year, a monstrous blow to the fans, the promoters involved, and to A&M Records as well. It pained Richard and Karen, as both were raised to honor commitments but, given Karen's condition, there really could be no second thoughts.
Had Karen been in perfect health, the touring schedule set up by management for 1975 was not realistic, especially given the fact that time for recording was supposed to be factored in to any year's schedule, and recording by a rested Karen and Richard. Richard maintained what he felt was obvious, that the Carpenters were first and foremost a record act and that all of their other successes had stemmed from the records. So much touring had been scheduled in 1974 that not enough time had been set aside to record an album, much to the record company's dismay, as a Carpenters album following the tremendous successes of "Now and Then" and "The Singles 1969-1973" would have been a monumental seller; witness the success of "Horizon" two years later. Clearly the time had come for a change in management and, in early 1976, that is precisely what happened.
At about the same time, Karen and Richard were working on their seventh studio album, "A Kind Of Hush." Included were a remake of There's A Kind Of Hush (All Over The World), the 1967 Herman's Hermits' hit, which did reach No.12 in the U.S., but was not an object of Richard's affection for very long, and a lovely Carpenter/ Bettis/ Hammond ballad, I Need To Be In Love, that would reach No.24 in America, but would vindicate Richard's belief in its hit potential some years later.
As the album was being recorded, a deal was being finalized which would procure for Karen and Richard a prime-time network television special, an achievement that had eluded them since the "Make Your Own Kind Of Music" chapter, five years before. Richard and Karen rightfully felt that an act of their stature should have at least one special; after all, every major record act from Barry Manilow to Olivia Newton-John had headlined theirs.
All of this was about to change, as in mid 1976 a deal between the Carpenters and the ABC network was announced and on December 8, 1976, "The Carpenters Very First Television Special," with guests John Denver and Victor Borge aired to outstanding ratings, placing No.6 for the week. As a result, a deal for more specials was offered, and by 1980 Karen and Richard had completed five specials for ABC.
Richard was never as fond of these as Karen, who was clearly the star and enjoyed the experience of making them. He feels that, while still being palatable to the average viewer, the specials should have taken more of the musical high road, such as those of Barbra Streisand and Barry Manilow, emphasizing Karen's remarkable voice, rather than including so many comedy sketches and canned laughter. Richard firmly believes that one reason Karen is relatively underrated as a great singer today is due to the sweet, square image promulgated by the record label, management, and their public relations firm alike, one that he was battling, with little success, throughout their career. Richard believes that the specials, well-executed and successful though they were, did nothing to change that image.
With A Kind Of Hush delivered to A&M for June, 1976 release, it was time for Karen and Richard to embark on the first of the postponed tours, this one in Japan, where they performed 21 concerts in a 27 day period in March and April. All were SRO, the tour was a resounding success, and Karen, Richard, and all concerned left for home a bit spent but happy all had worked out so well.
After completing the U.S. summer tour and wrapping the first T.V. special, the Carpenters left for Europe and the second postponed tour. Another success, this tour culminated with a record-breaking run at the London Palladium, where an album "Live At The London Palladium" was recorded, mixed by Karen and Richard at AIR Studios, starting about the third night into the engagement, and released within days of the Carpenters' departure.
During the tour, it was becoming increasingly apparent to Richard (and many around him) that his use of a prescription sleeping pill that he had been taking before bed sporadically since late 1971, was no longer sporadic, but now habitual. The medication, Quaalude, had been prescribed by the family doctor who, quite correctly said that, taken as directed, the pill was safe and effective. Richard, not being a party animal, but being a bit naïve, had never heard of Quaalude, which was quite a hit with some of the younger generation on the party circuit. Richard soon found out why; a common side effect was euphoria. To Richard, who had never smoked through high school and college and had not had his mood altered by so much as a beer, this proved quite the experience! All seemed well and good to Richard for the first few years, as he took them in limited quantities, only before bed, and enjoyed the release at the end of some very trying days. The trouble was, of course, that nothing is forever, and that as the years passed he built up a tolerance and ended up taking more. By late 1976, it was affecting him badly at times and he knew that, before too long, he was going to have to face up to the problem.
In 1977, All You Get From Love Is A Love Song brought the pair renewed American success, reaching No.35 at its peak. But it was the very uncharacteristic Calling Occupants Of Interplanetary Craft (The recognized anthem of World Contact Day) which gave them their only entry in the British chart that year. It reached No.9
These titles, along with the next single Sweet, Sweet Smile, were culled from the album 'Passage' which attained gold status. Sweet, Sweet Smile, a recording with a deliberate country arrangement, actually became a Top Ten hit on the American country charts, a first for Karen and Richard. (Top Of The World had previously reached No.2 on the country charts four years earlier by Lynn Anderson, whose recording was a virtual clone of the Carpenters' track.) In 1978 'The Singles 1974-1978', a UK-only release, took them to the No.2 spot on the British album chart.
For Karen and Richard, 1978 was dedicated to concert performances, video taping two television specials, and a project the pair had wanted to devote considerable time to since 1971, the making of a Christmas album. Karen's voice, of course, was perfect for interpreting holiday music, both sacred and secular, and Richard's talent in arranging and writing was a natural for the genre as well; Merry Christmas, Darling and the duo's 1974 Christmas release, Santa Claus Is Coming To Town being excellent examples. The only problem was that Richard, due to his ongoing addiction to sleeping pills, was (and for some time had been) sapped of his normal amount of energy and a lot of his creative juices as well. (In hindsight to Richard now, and to the amazement of many around him then, it's a wonder he was able to accomplish the rather large amount he did!) What Richard finally opted to do as far as his part in what was to become "Christmas Portrait", was to select the material, sequence the tunes in advance (as he wanted one to flow seamlessly into the next,) hire two world-class arrangers who worked in the traditional mold, Peter Knight and Billy May, and just produce the sessions.
The result was most impressive; with an outsize orchestra and chorus comprised of the finest studio talent in Hollywood, great songs, great arrangements, all interpreted by Karen, who was born to the genre, "Christmas Portrait" could not have missed, and it didn't; it was a hit when released in October 1978, and over the years has passed the 14 million mark in sales. The ongoing success of the album is bittersweet to Richard, who has realized for years what he could have done with the songs and the fact that, as a result, "Christmas Portrait" would have sounded much, much more like a true Carpenters album. As Richard says, " 'Christmas Portrait' is really Karen's first solo album, and it should have been released as such, but I don't believe A&M would have been too keen on that, especially since no conventional album had been released by us that year."
By late 1978, Richard, with much encouragement (and brow-beating) from family and friends, decided to 'face the music', and in January of 1979, entered a rehab facility for a six-week program. For any number of reasons, the first three weeks were "hell-on-earth," Richard says, "but after that, things really started to change, and of course, all for the better." Still, all of this had been a monumental change for Richard and he decided it was wise not to delve right back into work, and to pretty much take the rest of 1979 off; all the better to get accustomed to his changed fortunes. Karen, however, not one to stand idly by, wanted to take this time and record a solo album, something she and Richard felt she deserved. The only problem was that Richard (and others) knew she was not in the proper physical condition to tackle such a project. (During Richard's six-week stay, Karen had to enter a hospital once again, due to exhaustion and low weight.) Karen would hear none of it and enlisted the talents of the highly successful East Coast producer, Phil Ramone.
Phoning Richard in May for his 'blessing,' Karen then departed L.A. on the first of many trips to New York. Due to a number of factors, including Phil's incredibly ambitious multi-artist studio schedules, Karen's album took quite a bit longer to complete than originally planned. Ideally, the plan was to release the album in early 1980, while Richard and Karen finished their fifth T.V. special and began work on their album. When it transpired that A&M was not particularly happy with the finished solo album and suggested, at the very least, that some new songs were needed, the time came for Karen to make a decision as to the album's future. After much soul-searching and some pragmatic thought, she, understandably unhappily, decided on shelving the project, at least for the present time.
By 1980 the Carpenters were back in the studio working on more tracks. The resultant album, 'Made In America', released in June 1981, confirmed that the duo still had a considerable following among the album-buying public.
In Britain it only just missed the Top Ten, with tracks that included Back In My Life Again, Because We Are In Love, I Believe You, Those Good Old Dreams, Strength Of A Woman, When You've Got What It Takes and When It's Gone.
In addition, Touch Me When We're Dancing, a single taken from the album, in 1981 gave the Carpenters what would become their final American Top 20 entry.
In January 1982, Karen moved to New York to spend most of the next 11 months seeing a therapist five times weekly for treatment of anorexia nervosa. She made a short trip to Los Angeles in April for a visit, during which time several rhythm tracks with work leads were recorded, including Now and You're Enough.
Karen returned to New York where, from late April through mid November, she spent more time in therapy and ultimately, the hospital, as the therapy was getting her nowhere and she had dropped to 80 pounds. It was in the hospital that, using a procedure known as hyper alimentation, her weight was increased by approximately 25 pounds. Although obviously heavier and appearing healthier than she had recently looked, Richard believed that things just weren't right; the weight had been put on artificially, Karen no longer possessed her boundless energy, and most importantly, he believed the life had gone out of her eyes. Feeling the worst was behind her, Karen returned to L.A. in November with plans to resume her life and career.
In December 1982 she gave what would be her last performance at her godchildren's school. (Given what was to transpire, it turned out that the Carpenters' last performance was December 3, 1978, a benefit performance at the Long Beach Pacific Terrace Theater, for the CSULB choir.) Just weeks later, on February 4, 1983, she was found unconscious at her parents' home in Downey where she had been visiting. Although she was rushed to the hospital, she was pronounced dead of a heart attack soon afterward – a side effect of her long battle with her illness.
Karen's death did not mark the end of the Carpenters' popularity, however. Later in 1983, a newly completed album comprised of outtakes from previous projects (with the exception of Now and You're Enough), entitled "Voice Of The Heart", enjoyed large sales, especially in Britain, where it climbed to No.6 on the chart with songs like Make Believe It's Your First Time, Now, At The End Of A Song, Your Baby Doesn't Love You Anymore and Ordinary Fool. The following year, a UK-only retrospective album, "Yesterday Once More", was a similar success. 1984 also saw the release of "An Old Fashioned Christmas". Comprised of six tracks featuring Karen's lead that did not make "Christmas Portrait" due to space limitations, the ballad version of Santa Claus Is Coming To Town from 1974, and instrumentals and some multi-harmony, a cappella vocal work by Richard, the album was completed at EMI and Abbey Road Studio A in London and mixed at A&M Studios in Hollywood. T
he "Yesterday Once More" album and video were released in America the following year
. 1989 saw the release of "Lovelines", an album that featured additional Carpenters outtakes, as well as two TV Special tracks by Karen and four tracks from Karen's solo album.
In Britain, 1990, a newly released 20-track greatest hits compilation, "Only Yesterday", spent nine weeks in the No. 1 spot and became the second-biggest selling album of the year.
In 1994, to celebrate the 25th anniversary of Karen's and Richard's signing with A&M, two albums were released by the label; "Interpretations" by Karen and Richard, and a tribute album by various alternative artists, including Sonic Youth and Sheryl Crow, interpreting 14 Carpenters songs entitled, "If I Were A Carpenter". In March 2005 the UK edition of their latest greatest hits offering, a 20-track CD and a 15-track DVD, had reached No.4 in two weeks time.
In Japan, where the duo had enjoyed resounding success since the 1971 release of Superstar and where 1973's Yesterday Once More and album "Now & Then" had become phenomena, 1995 and the following year were to become years of unparalleled success for Karen and Richard.
Influential TV screenwriter writer Shinji Nojima had chosen I Need To Be In Love and Top Of The World to be the title songs in his 13-part TBS series Miseinen.
Other Carpenters tracks, including Desperado and For All We Know were featured in the body of the work. Miseinen, loosely translated as 'Minors', concerned and was targeted at the 13 to 21 year-old demographic, a group who heretofore may have only known the name "Carpenters" from their parents.
The series and the music proved to be a success beyond anyone's wildest expectations, resulting in a newly released CD single of Top Of The World and I Need To Be In Love going quadruple platinum and elevating the latter to the popular and mythical status of Yesterday Once More and Top Of The World. An album, "Twenty-Two Hits of the Carpenters" compiled by Richard for release around the series, catapulted to No.1 and went on to become the largest selling album by a foreign artist in Japanese history – as another generation responded to the truly timeless appeal of two people who had quietly changed the world of popular music forever.
A Tribute To Karen

"Karen was such a vibrant spirit in life and it has transcended even death. Her music continues to embody a spirit all its own. Though there may be songs never sung and life not lived, we find that the time Karen spent here was filled with such enormity of talent, such love of family and friends, such a sense of the purpose of living life that we are buoyed by her songs and not saddened.
"Those who knew Karen were touched by her love of Christmas and singing carols. They were moved by her drive to find perfection without criticism of others. Girls were inspired to take up the drums. People were touched by the way a song seemed almost biographical when there is no way Karen could have lived it.
"This page is a tribute to that living spirit. Though you may all have your individual memories of Karen. Let us take this page and introduce those of a newer generation to those who remember Karen vividly and share the person she was."
The Richard And Karen Carpenter Performing Arts Center
Located at California State University Long Beach
Oaks Florist
Thousand Oaks Civic Arts Plaza
The Museum of Television and Radio
Los Angeles and New York.